Soltec - Business Process Consulting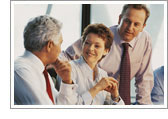 Soltec is a leading business process consulting firm specializing in implementing Best Practice Solutions™ to achieve dramatic cost reductions for our clients. With an emphasis on process, work procedures, and organizational change management, Soltec has developed and implemented pre-defined Best Practice Solutions™ in numerous Fortune 1000 companies since its inception in 1991.
Our industry-proven Best Practice Solutions™ significantly improve Working Capital, core business/manufacturing processes and reduce SG & A costs to improve financial results.
Implementing Best Practice Solutions™ quickly and completely distinguishes Soltec as a leader in the process improvement field. Quite simply, we have consistently achieved a successful Best Practice Implementation with all of our clients by integrating the five critical factors essential to a successful implementation:
Proven Business Process Best Practice Solutions™
Subject Matter Expertise
Organizational Change Management
Disciplined Implementation Methods
Accelerated Project Plans
Please see Best Practice Solutions™ for complete information.