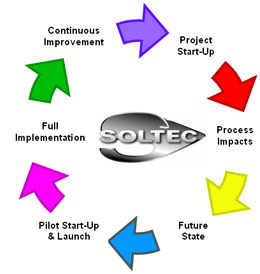 Soltec is a business process consulting firm specializing in transforming companies into efficient process-driven organizations that clearly define employee roles & responsibilities with specific employee metrics that more effectively utilize resources. Soltec brings the following five areas of expertise to managing process improvement initiatives throughout the project lifecycle:


Proven Business Process Best Practice Solutions™
Soltec's approach to process simplification integrates proven Best Practices Solutions™ into total re-engineered business process solutions to achieve world-class performance measures. This is accomplished by emphasizing dramatic business process improvements rather then concentrating on technology enablers. Under this approach, clients stay focused on the implementation of predefined new processes rather than exhaustive as-is analysis and technology driven solutions.
These Best Practice Solutions™ integrate benchmarked, world-class, SOX compliant business processes and a proven implementation methodology into one total solution to ensure a successful transformation for your organization. Soltec has developed detailed process models, activities and tasks into end-to-end Best Practice Solutions™ that support the following business areas: Procurement, Inventory & Supply Chain Management, Finance/Accounting/Treasury , Order and Revenue Management, Shared Services, and Sales and Marketing.
Please see Best Practice Solutions™ for complete information. Back to Top


Subject Matter Expertise
Soltec uses experienced industry practitioners with subject matter expertise that have many years of experience implementing Soltec Best Practice Solutions™. Soltec consultants have worked across many industry groups including Automotive, Chemical, Communications, Sales & Service, Grocery Products, Research, Technology, Retail, and others. Soltec principals have received national recognition for their work in providing industry professionals and executives with Best Practice Education™. Back to Top


Organizational Change Management
When organizations implement significant business process improvements such as Best Practice Solutions™, they must first gain the buy-in of all company personnel in order to realize the benefits of the new processes. Managing people change is a critical aspect of business process improvement initiatives.
Soltec has recognized this need for Change Management and consequently, all implementations are enhanced by a proven engagement method that focuses on change management techniques for all affected employees throughout the entire implementation process.
Soltec has discovered that the first and most critical step to achieving a successful Best Practice Solution™ implementation is to educate executives and all impacted personnel. Soltec requires an educational session with all executives and affected employees prior to any implementation meetings.
Please see Organizational Change Management for complete information. Back to Top


Disciplined Implementation Methods
Soltec creates client team partnerships that focus on achieving end-results quickly. Soltec implementations use highly structured and organized team work session formats utilizing pre-developed electronic meeting aids and implementation tools to present and capture critical information. Soltec's electronic implementation methods force the team to focus on the actions required to achieve the desired Proven Solution-not determine "What is the Solution?" Team work session formats have been designed to maximize team productivity and reduce project implementation timing by as much as 70%.
All Best Practice Solution™ implementations are conducted using these team work sessions to ensure that all critical actions are completed within the accelerated project timeline. Soltec's team work session method has been found to increase both the understanding and ownership of the project. During the entire process, there is a strong emphasis on teaching and knowledge transfer from Soltec to your organization. Upon project completion, your organization will have a self-sustaining Best Practice Solution™.
Please see Methodology for complete information. Back to Top


Accelerated Project Plans
All Soltec Best Practice Solutions™ implementations use accelerated Project Plans customized for each client to implement process improvements in the most efficient method possible.
Utilizing disciplined implementation methods in conjunction with accelerated project plans allow Soltec clients to achieve a successful pilot launch of many Best Practice Solutions™ in four to six key team work sessions. With the accelerated project plan and Soltec's guidance, an organization can transform a conceptual Best Practice into a working pilot program within four-five months. Back to Top